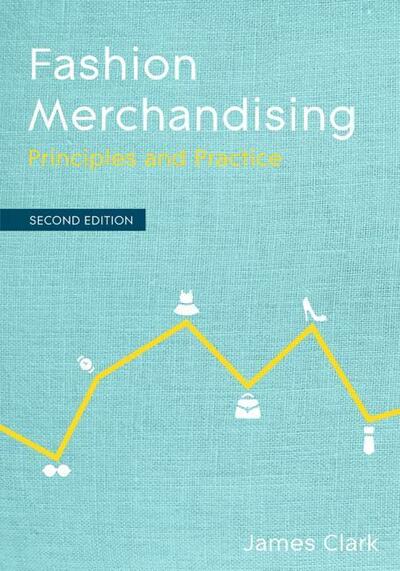 Fashion Merchandising (2nd Edition)
Principles and Practice
Author(s):
Publisher:
Red Globe Press
Pages: 296
Downloads:
Further Actions:
---
Categories:
AVAILABLE FORMATS
Paperback - 9781352011104
16 November 2020
Ebook - 9781352011111
16 November 2020
Now in its second edition, this critically-acclaimed core textbook provides a detailed overview of the role of the fashion merchandiser, its place within a fashion retail organisation by outlining their activities and...
Show More
Now in its second edition, this critically-acclaimed core textbook provides a detailed overview of the role of the fashion merchandiser, its place within a fashion retail organisation by outlining their activities and responsibilities as part of the fashion value chain. This overview is situated within the broader context of the fashion industry, highlighting the relevance of the merchandiser role and comparing it to the role of the fashion buyer.

The textbook features a multi-chapter case study that provides an example process of the planning and creation of a balanced product range from the perspective of the merchandiser. It does so using a combination of text and numerical explanation.
The second edition has been reworked with new contributions by academics and industry practitioners that examine topics such as sustainability, supply chain management e-Commerce and the international perspectives of the merchandiser role.
Offering crucial insight into the merchandiser role and emphasising how it can add value to a fashion business, this is an ideal textbook for aspiring merchandisers. It is suitable for students studying at undergraduate and postgraduate level and practitioners seeking to progress their careers in this exciting and multi-faceted industry.
Show Less
Detailed strategic and analytical coverage of the subject
Strong application of theory to the realities of the fashion business
An introductory overview that discusses, justifies and explains the fashion merchandiser role
A running case study provides practical examples of the activities of the fashion merchandiser, including `Day in the life of' profiles of a range of industry professionals
A summary discussion of influence and factors that current fashion merchandisers must consider in the discharge of their duties
A companion website provides a range of resources for both lecturers and students, including an answer key for exercises, class assignments, lecture slides and additional exercises
Glossary at the back of the book provides a useful breakdown of key terms used in fashion merchandising
Revised updated content with new contributions from fellow academic and industry professionals
New perspectives on sustainability, supply chain management, e-commerce and technology
A new chapter looking at the merchandiser role in different countries (e.g. USA, Australia, India)
New focus point materials
New chapter on Sustainability, co-authored with Hannah Middleton
New activities and suggested reading lists
PART I: INTRODUCTION AND CONTEXT OF THE FASHION MERCHANDISER ROLE
1. Fashion Retailing
2. Fashion, Business and Product
3. The activities of Buying and Merchandising
4. Organizing the Buying and Merchandising Function
PART II: FASHION MERCHANDISING
5. Fashion Merchandising: The Prentice Day Case Study
6. Fashion Merchandising: Research and Analysis
7. Fashion Merchandising: Budgeting
8. Fashion Merchandising: Open to Buy
9. Fashion Merchandising: Range Planning
10. Fashion Merchandising: Sizing, Deliveries and Allocation
PART III: FASHION MERCHANDISING AND THE MODERN TRADING ENVIRONMENT
11. Merchandising: A global perspective
12. e-Commerce and buying and merchandising
13. The merchandiser and the supply chain
14. Sustainability and product management.
Student exercises, including Budgeting, Formative Assessment, Retails Calculations and Trading Analysis
Support documents to accompany the student exercises
Lecturer Resources (some are password protected) include:
Answers to the student exercises
Class assignments
Lecture slides
The revised and updated second edition of Fashion Merchandising is hugely valuable. The presentation is clear and organised into distinct sections starting by setting merchandising in the wider context of fashion retail and buying, followed by a section examining the role of the fashion merchandiser in detail. There is perhaps no role in the fashion supply chain more impacted by advances in digital technology than fashion merchandising, where access to data analysis and large volumes of information have changed beyond compare, and so it is good to see the final section addresses merchandising in a digital context as well as other contemporary issues such as sustainability and the global industry. The book is an excellent companion to any fashion course, in particular fashion business courses at undergraduate and postgraduate level. A highlight of the text is the good range of relevant case studies, examples and further reading, which will support any taught programme of study in fashion merchandising. – Liz Barnes, Head of Manchester Fashion Institute, Manchester Metropolitan University, UK.
For anyone wanting to understand the role of fashion buying and merchandiser, this book provides insight to the role, environment, and up-to-date case examples. This book will be extremely useful to those study merchandising, and for those operating in fashion business. – Sean Sands, Swinburne Business School, Australia.
The fashion merchandiser's key role in the apparel business is articulated through detailed analysis of the various practices undertaken, and supported by provision of numerous case-studies. Written in an accessible manner that includes suggestions for class-room activities and self-directed study, the updated edition of Fashion Merchandising is a valuable resource for academics and students alike. – Nicolas Cambridge, London Metropolitan University, UK.
Add a review
ABOUT THE AUTHOR

---