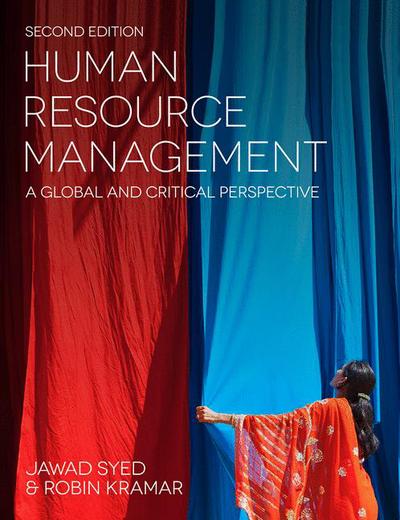 Human Resource Management (2nd Edition)
A Global and Critical Perspective
Author(s):
Publisher:
Red Globe Press
Pages: 468
Downloads:
Further Actions:
---
Categories:
AVAILABLE FORMATS
Paperback - 9781137521620
15 January 2020
Ebook - 9781137521637
26 April 2017
Ebook - 9781137521644
07 June 2017
The fully revised and updated second edition of this core textbook builds on the previous edition's success to bring an even sharper exploration of HRM in a real-world global context. With a critical approach that is woven...
Show More
The fully revised and updated second edition of this core textbook builds on the previous edition's success to bring an even sharper exploration of HRM in a real-world global context. With a critical approach that is woven into the chapters and encourages students to question assumptions in HRM, there is a consistent focus on the impact of globalization, the ways in which theory has addressed the implications of a globalized workforce, and the way HRM works in multinational corporations. Boasting a truly global orientation, this textbook draws on the expert knowledge of chapter authors from around the world, combining international case studies with a strong offering of pedagogical features. While adopting a rigorous academic approach, the book is also designed to engage students and elicit independent thought.
This is an ideal core textbook for undergraduate and postgraduate students studying on general business and management degrees, specialist HRM degrees, and international business degrees. In addition, this an important supplementary text for International HRM modules and HRM modules on MBA programmes.
Show Less
Contributions from over twenty leading international experts

A companion website including lecture slides

A thorough pedagogical framework featuring 'Critical Thinking' boxes, revision questions, topics for discussion and class activities

A rigorous academic approach grounded in the latest HRM research
Brand new chapters on Talent Management, International Assignments, Managing Global and Migrant Workers, and Sustainable HRM

Revised and refreshed international case studies including an array of examples from diverse, non-western regions of the world

'HRM in the news' boxes, comprising issues from the media that are relevant to each chapter topic

'Stop and reflect' boxes containing thought-provoking questions that encourage critical thinking

PART ONE- THE HRM ARENA
Chapter 1 – Context-Specific Human Resource Management
Chapter 2 – A Critical Perspective on Strategic Human Resource Management
PART TWO - HRM IN PRACTICE
Chapter 3 – HRM in MNCs
Chapter 4 – Diversity Management in a Global Context
Chapter 5 – HRM, Ethics and Corporate Social Responsibility
Chapter 6 – Human Resource Planning
Chapter 7 – Job and Work Design
Chapter 8 – Recruitment and Selection
Chapter 9 – Performance Management
Chapter 10 – Reward Management
Chapter 11 – Training, Development and Learning
PART THREE - CONTEMPORARY ISSUES IN HRM
Chapter 12 – Talent Management
Chapter 13 – International Assignments
Chapter 14 – HRM, Productivity and Employee Involvement
Chapter 15 – Work-Life Balance in the 21st Century
Chapter 16 – Managing Global and Migrant Workers
Chapter 17 – Sustainable HRM.
An excellent revised edition of a successful core text which features a truly global orientation, and a critical approach to HRM theory and practice. The authors take a non-western-centric approach and encourage students to question underlying assumptions about management. – Adrian Wilkinson, Griffith University, Australia
In the last few decades an increasing number of books on international HRM have been published. Among these publications this book stands out through the way in which it explores dominant concepts from the HRM literature, linking them with other literature, like on institutional theory, industrial relations and employee participation. The critical approach makes it stand out, especially when compared with more mainstream thinking on Strategic HRM. Global developments are looked at without the typical Euro-US angle - providing fresh ideas from other regions of the world like Australia. There are also many excellent cases suitable for various levels of teaching international HRM and employment relations. – Ulke Veersma, University of Greenwich, UK
This book provides a superb introduction to HRM in the 21st century, and in a global context. The topics are located in the present era; they update methodologies and offer original and actionable ways forward for a subject that is in danger of being hijacked by recycled insights. – Raza Mir, William Paterson University, USA.
Add a review
ABOUT THE AUTHOR

---