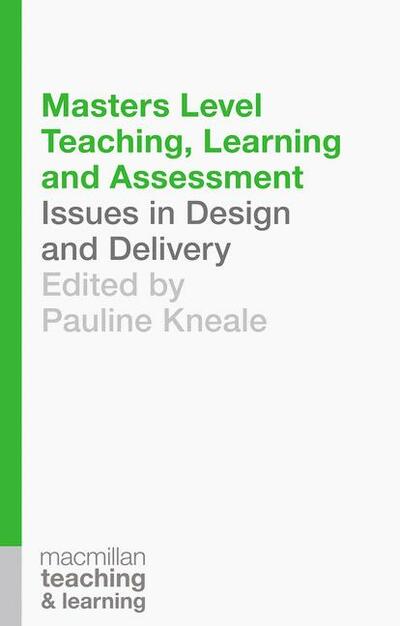 Masters Level Teaching, Learning and Assessment
Issues in Design and Delivery
Author(s):
Publisher:
Red Globe Press
Pages: 304
Series:
Downloads:
Further Actions:
---
Categories:
AVAILABLE FORMATS
Paperback - 9781137399366
25 September 2015
Ebook - 9781137399373
16 September 2017
Ebook - 9781137399380
25 September 2015
Masters level study requires a distinct set of approaches to teaching, learning and assessment, yet there is often little discussion of these issues, or support for staff. This much needed handbook redresses that balance by...
Show More
Masters level study requires a distinct set of approaches to teaching, learning and assessment, yet there is often little discussion of these issues, or support for staff. This much needed handbook redresses that balance by providing targeted support for those working with academic, professional and applied Masters programmes.

Ideal for newly qualified and experienced staff alike, this book covers everything you need to know to develop effective practices in Masters teaching, including designing, managing and reviewing a curriculum, and delivering effective student support. The text brings together contributions from a wide range of academics who have extensive practical experience of teaching at Masters level nationally and internationally.

Through sharing examples of innovative practice and student-centred learning advice, this book provides thought-provoking support for all those working to develop and enhance Masters programmes.

Show Less
No current directly competing titles, therefore filling a significant gap in the market
Hot and topical subject which responds to the way Masters level degrees are increasingly being seen as an entry requirement for many jobs
Editor has over thirty years' experience of teaching Masters students and tutoring new academic staff teaching at this level
Broad range of contributors from UK, US and China

Foreword; Pauline Kneale
Series Editor's Preface; Sally Brown
Abbreviations
PART I: THE MASTER'S EXPERIENCE
1. Master's Perspectives
1.1. Being A Student And Teacher; Bill Lindquist
1.2. My Masters Experience As Student And Teacher; Valerie Huggins 1.3. Researching The Master's Student Experience; Louise Winfield 1.4. Understanding Students Needs In Theatre Practice; Sue Mayo and Katharine Low1.5. Defining Issues For Mastery; Pauline Kneale
2. The Diversity Of Masters Provision; Pauline Kneale
3. Aspects Of Mastership 3.1. Master's Education In China Danqing Liu; Jinghua Liu
3.2. The Master's Experience In Canada; Celia Popovic 3.3. The Influence Of Bologna On The Student Experience, A Case Study From Portugal; Ana Vitoria Baptista and Ana Cabral 3.4. Exploring The Experience And Support Needs Of Part-Time Master's Students; Julie Anderson, Valerie Huggins and Louise Winfield
PART II: TRANSITION MATTERS
4. Transition Issues For Course Designers 4.1. Transition To Postgraduate Study: Overlooked And Underestimated; Jane Tobbell and Victoria O'Donnell 4.2. Principles For Reviewing The Taught Postgraduate Induction Curricula; Julie Rattray and Jan Smith 4.3. Effective Interventions For Maintaining Master's Student Motivation; Michelle Reid, Sonia Hood and Kim Shahabudin 4.4. Issues And Resources For Transition: A Personal Reflection; Pauline Deutz
5. Effective Induction 5.1. Belonging Cube: An Induction Activity To Recognise And Celebrate Diversity; Mark Sutcliffe and Ruth Matheson 5.2. Using Formative Assessment During Induction; Ruth Cross 5.3. Exploring Critical Thinking With Chinese Students During Induction; Rong Huang 5.4. Study Skills For Masters' Level 'Through The Looking Glass' Of Chinese Students; Marina Orsini-Jones, Ying Zhao and Xuemei Wang
PART III: EFFECTIVE EXPERIENTIAL LEARNING
7. International Learner Development Across The Business School Curriculum; Gillian Byrne and Halina Harvey Writing Matters 7.1. Supporting Students To Develop Master's Level Writing Skills; Clare Furneaux 7.2. Reflective Writing With Students On An LLM For Practising Lawyers; Jane Ching 7.3. Teacher Student Experiences Of Collaborative Writing At Master's Level; Emily Beaumont and Ken Gale
8. Integrating University-Wide Support 8.1. Central Support For Masters Student Dissertation Work; Tina Ramkalawan and Emily Danvers 8.2. Employability Skills For Masters Students; Debbi Marais
9. Problem-Based Learning In Practice 9.1. Using Problem-Based Learning In M-Level Computing Module; Chris Beaumont 9.2. 'Real World' Student Experience At Masters Level In Art And Design: Case Studies From Glass And Ceramics; Kevin Petrie, Andrew Livingstone, Jeffery Sarmiento and Cate Watkinson 9.3. Issues For Professional Masters: Bringing The Real World Into The Classroom; Joanna Drugan
PART IV: ASSESSMENT
10. Assessing Well At Masters Level; Sally Brown 11. Creative Assessments 11.1. Using Blogs When Assessing M-Level Childhood And Youth Studies Students To Foster Skills And Confidence; Emma Bond and Stuart Agnew 11.2. Using Portfolios To Assess M-Level Music Performance Students; Laura Ritchie, 11.3. Authentic Assessment In An Med Psychology Of Education; Sue Palmer-Conn 11.4. A Group Work Assessment For Distance Learners On An Msc Facilities Management Programme; Chris Garbett 11.5. Patchwork Portfolio Assessment; Mark Sutcliffe and Ruth Matheson 11.6. Managing Student Diversity And Learning Through Group Formative Assessment; Adam Ritchie and Emma Plugge
PART V: CURRICULUM DESIGN
12. Curriculum Design To Provide Learning In A Social Practice; Andrew Cramp
13. Lessons Learned From Distance Learning; Helen Durham and .
ABOUT THE AUTHOR

---