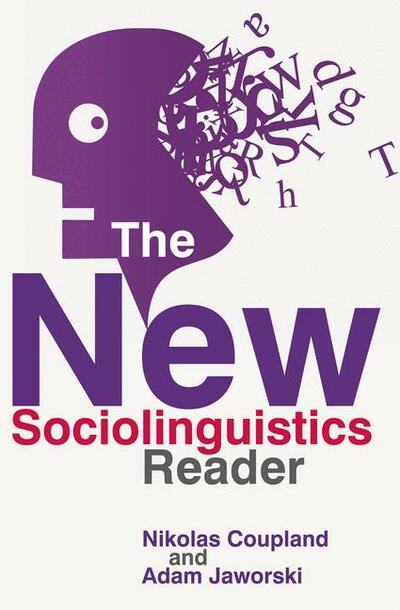 ---
Categories:
AVAILABLE FORMATS
Paperback - 9781403944153
15 March 2009
Hardcover - 9781403944146
15 April 2009
Ebook - 9781137077738
11 March 2009
Ebook - 9781137189400
11 March 2009
Ebook - 9781349922994
20 July 2009
Fully updated and expanded for the second edition, this core textbook provides rigorous coverage of the key themes and debates at the cutting edge of sociolinguistics research and brings together many of the most influential...
Show More
Fully updated and expanded for the second edition, this core textbook provides rigorous coverage of the key themes and debates at the cutting edge of sociolinguistics research and brings together many of the most influential scholars in the field. Comprising six distinctive parts and almost fifty individual chapters, it introduces students to a wealth of issues in sociolinguistics, including refashioning linguistic identities, code-switching, language rights and the social functions of small talk. Chapters are richly illustrated with examples and informed by the latest scholarly debates.
This is an essential companion for all undergraduates and postgraduates involved in the study of sociolinguistics. It will be an ideal resource for lecturers teaching modules on topics such as language variation, language and gender, language attitudes and multilingualism.
Show Less
Provides an up-to-date overview of sociolinguistics which is firmly grounded in contemporary research

Explores a wide range of themes, including social stratification, folk linguistics, diglossia and creativity in sign language

Signposts readers to additional resources to enhance their understanding of the topics covered in this volume

Authored by eminent sociologists who are leading authorities in the field

Includes 25 new readings

Features a new section on language, gender and sexuality

Introduction: Social Worlds through Language; N. Coupland and A. Jaworski
PART I: LANGUAGE VARIATION
Editors' Introduction to Part I
Dialect in Society; W.Wolfram
The Social Stratification of (r) in New York City Department Stores; W.Labov
The Social Differentiation of English in Norwich; P.Trudgill
The Transmission Problem in Linguistic Change; W. Labov
Network Structure and Linguistic Change; J.Milroy and L.Milroy
Demythologising Sociolinguistics; D.Cameron
Syntactic Variation and Beyond; J. Cheshire
Be + Like: The New Quotative in English; S. Tagliamonte
Ethnography and the Study of Variation; P. Eckert
PART II: LANGUAGE, GENDER AND SEXUALITY
Editors' Introduction to Part II
'Women's Language' or 'Powerless Language'?; W.O'Barr and B.K.Atkins
The Relativity of Linguistic Strategies: Rethinking Power and Solidarity in Gender and Dominance; D. Tannen
Fraternity Men: Variation and Discourses of Masculinity; S.Kiesling
Masculinity Manoeuvres: Critical Discourse Psychology and the Analysis of Identity Strategies; M. Weatherell and N. Edley
'Why Be Normal?': Language and Identity Practices in a Community of Nerd Girls; M.Bucholtz
Lip service on the Fantasy Lines; K. Hall
Language and Identity in Drag Queen Perfromances; R. Barrett
PART III: STYLE, STYLISATION AND IDENTITY
Editors' Introduction to Part III
Language Style as Audience Design; A.Bell
The Process of Communication Accommodation; H.Giles
Crossing, Ethnicity and Code-Switching; B. Rampton
Yorkville Crossing: White teens, hip-hop and African American English; C.Cutler
Acts of Identity: The Pantomine Dance; N. Coupland
Refashioning and Performing Identities in Global hip-hop; A. Pennycook
PART IV: LANGUAGE ATTITUDES, IDEOLOGIES AND STANCES
Editors' Introduction to Part IV
Linguistic Resources for Socializing Humanity; E. Ochs
Language Ideology and Linguistic Differentiation; J. T. Irvine and S. Gal
The Production and Reception of Language Ideologies in Practice; A. Jaffe
Language Ideology and Spelling Reform: Discourses of Orthography in the Debate on German; S. Johnson
Social Class Differences and the Identification of Sex in Children's Speech; J.Edwards
Folk Linguistics; N. Niedzielski and D. Preston
PART V: MULTILINGUALISM, CODE-SWITCHING AND DIGLOSSIA
Editors' Introduction to Part V
The Sociology of Language; J.Fishman
Diglossia; C. Ferguson
Language Change and Sex Roles in a Bilingual Community; S. Gal
Codeswitching; C. Myers Scotton
Bilingual Conversation; P. Auer
Linguistic and Educational Aspects of Tok Pisin; J. Siegel
Language Rights; S. May
Sociolinguistic Dimensions of Language Death. N. C. Dorian
A Sociolinguistics of Globalisation; J.Blommaert
PART VI: LANGUAGE, CULTURE AND INTERACTION
Editors' Introduction to Part VI
Models of the Interaction of Language and Social Life; D.Hymes
Contextualization Conventions; J. J. Gumperz
Cultural Dimensions of Language Acquisition; E. Ochs
Humour, Power and Gender in the Workplace; J.Holmes
Social Functions of Small Talk and Gossip; J. Coupland
The Sociolinguistics of Fleeting Encounters in Tourism; A. Jaworski
Creativity in Sign Languages; R. Sutton-Spence
Poetics and Performance as Critical Perspec.
ABOUT THE AUTHOR

---