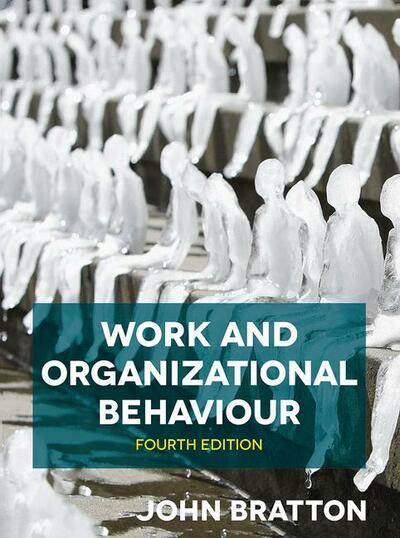 Work and Organizational Behaviour (4th Edition)
Author(s):
Publisher:
Red Globe Press
Pages: 554
Downloads:
Further Actions:
---
Categories:
AVAILABLE FORMATS
Paperback - 9781352010978
17 November 2020
Ebook - 9781352010985
18 November 2020
Critical and accessible, the new edition of this bestselling textbook offers valuable insight into contemporary management practices and encourages readers to reflect on the realities of the workplace. Work and...
Show More
Critical and accessible, the new edition of this bestselling textbook offers valuable insight into contemporary management practices and encourages readers to reflect on the realities of the workplace. Work and Organizational Behaviour takes a unique and well-rounded approach, exploring key theories and topics through the lenses of sociology, psychology, ethics and sustainability. Firmly embedded in the latest research and the wider geopolitical environment, this new edition places OB in the context of climate change, the rise of unstable working conditions and the impact of new technologies. A strong suite of pedagogy supports student learning, demonstrating key theories in action and preparing readers for the real world of work. Cases and features illustrate contemporary organizational practices and their impact across the world, in a range of industries.
With streamlined content, an improved structure, and an enhanced focus on leadership, Work and Organizational Behaviour is an essential companion for OB modules at undergraduate, postgraduate and MBA levels.
Show Less
Up-to-date discussion of current and emerging OB trends and theory, with extensive references to cutting-edge research and data
An academically-rigorous approach offering readers a critical perspective on the socially-embedded nature of OB
Cases from around the world, including China, Australia, India, New Zealand, Nigeria, Singapore, Bangladesh, Germany, UAE, Canada, Pakistan, Norway, Japan and Qatar
A balance of critical and managerial perspectives to prepare students fully for the world of work
A comprehensive companion website with a wealth of student and instructor resources, including practitioner videos, extra case studies, interactive quizzes, test bank and skills development guide
New chapters on `Work and the gig economy' and `Human resource management'
New decision making scenarios helping readers to develop practical leadership skills
200+ new references to recent academic literature
Inclusion of important contemporary topics, including Covid-19 and the gig economy
Coverage of new technologies, including the impact of AI, robots, remote working and big data
Increased coverage of corporate social responsibility and ethics
New end of chapter cases, Reality of Work features and Globalization and Organization Behaviour features
1. Introducing contemporary organizational behaviour
2. Work and the gig economy
3. Studying work and organizations
4. Class, gender, race and equality
5. Personality and self-identity
6. Perception and emotions
7. Motivation
8. Learning
9. Group and team dynamics
10. Communication
11. Structure
12. Technology
13. Culture
14. Human resource management
15. Leadership
16. Decision making, ethics and social responsibility
17. Power, politics and conflict
18. Change.
The book's companion website features an array of resources to support student learning:
Bonus case studies
Chapter research questions to develop critical thinking skills
Critical insights: thought-provoking publications on topics discussed
Glossary of key terms
In-depth exploration of OB concepts in modern film
Interactive quizzes
Learning tips and vocabulary checklist for ESL students
Research and skills development guides
Video interviews with business managers and HR professionals
Web-based assignments
New decision making scenarios
All of these resources can be found at www.macmillanihe.com/bratton-WOB-4e or click 'View companion site' above.
The text's readability and usefulness makes this a firm favourite with students. Its holistic approach provides a far reaching insight that is current, contemporary, and is relevant across the discipline. This latest edition incorporates a balanced theoretical approach considering a broad range of content from leadership and culture to power, politics and conflict. Coupled with practical work related content it allows students to apply organisational behaviour in an understandable way. – Clare Garrick, Coventry University, UK.
This is a fantastic book that provides comprehensive coverage of issues relevant to any syllabus on organisational behaviour. It takes a multi-disciplinary and distinctly critical approach to the content that will help students orientate themselves to the study of work and organisation, and facilitate the development of their reflexive skills, which will ultimately make them more thoughtful and better managers. – Pete Thomas, Lancaster University, UK.
An excellent critical exploration of contemporary issues relevant to work and organizational behaviour for these challenging times. Students will learn about the complexities of organizational life through Bratton's brilliant use of real-life cases and vignettes to integrate theory and practice. They will also enjoy a variety of learning resources, like work features and practical scenarios, to prompt reflection and deliberation about topics such as equality, culture and change. – Sue Mulhall, Technical University Dublin, Ireland.
This is an impressive textbook that takes seriously critical perspectives on work and organizational behaviour, which challenge the dominant and overly narrow mainstream perspective of most textbooks. John Bratton highlights the need for organizations to prioritize fairness and justice, as well as high performance, and he raises these issues in a way that students will find accessible and relevant to their experience. – Todd Bridgman, Victoria University of Wellington, New Zealand
This is an indispensible resource for anyone seeking to understand the complex and changing nature of organizations in the gig economy and in the wake of COVID-19. Suitable for all levels of study, each chapter is full of thought provoking ideas that connect theory and practice, providing critical insight into the challenges that managers and workers face today. Key features include 'Reality of Work' and 'Globalization' sections, as well as prompts for discussion and reflection. – Melissa Tyler, University of Essex, UK.
Work and Organizational Behaviour has all the fundamentals of mainstream management theories with enrichment of a uniquely contemporary and critical approach on workplace realities in the 2020s. Truly unrivaled in its contextualization of OB in time and place and the nexus between local and global, the book enables a multi-voiced space of international OB practices as well as managers through a wealth of interactive, pedagogical features. The book is truly adept at preparing organizational leaders for post-pandemic realities in the 2020s by teaching critical perspectives that are sensitive to climate, equity, language and race. – Sarita Koendjbiharie, Leiden University, Netherlands
Bratton's critical approach has always been instrumental in enabling students to appreciate the centrality of the structures beyond the individual and their immediate work group or workplace. This new edition cements this approach and renders Work and Organizational Behaviour the standard textbook for a properly rigorous, pluralistic, and multi-disciplinary study of OB. – Michail Veliziotis, University of Southampton, UK
Work and Organizational Behaviour by John Bratton is a comprehensive and well-written handbook covering the fundamental aspects and latest theoretical discussions regarding organizational behavior. It is an excellent textbook for university students, academics and practitioners interested in areas of organizational behavior. – Hanna Salminen, Tampere University, Finland
John Bratton has produced a textbook that is at the cutting edge of the study of work and organization. Critical yet accessible, this book brings to life crucial topics in an engaging and intellectually stimulating way. Work and Organizational Behaviour provides a superb resource for learning and teaching. – Edward Granter, University of Birmingham, UK
An ideal mix of functionalist approaches and cautionary critical perspectives on OB topics. An excellent book for the contemporary student. – Constantin Ciachir, Unviersity of Surrey, UK
'Work and Organizational Behaviour' has provided an excellent source for students over many years. The author(s) ensure that the text is readable and accessible and the inclusion, in this edition, of additional research/case studies, that are highly relevant in today's changing globa
Add a review
ABOUT THE AUTHOR

---