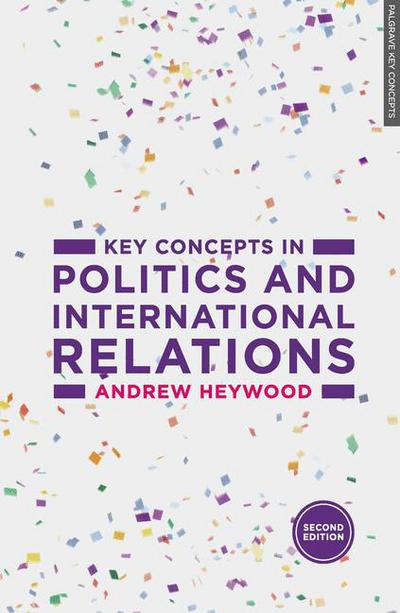 Key Concepts in Politics and International Relations (2nd Edition)
Author(s):
Publisher:
Red Globe Press
Pages: 280
Series:
Downloads:
---
Categories:
AVAILABLE FORMATS
Paperback - 9781137612090
07 July 2015
Paperback - 9781137489616
24 July 2015
Ebook - 9781137494788
21 July 2015
Ebook - 9781137494771
07 July 2015
Concepts have a particular importance for students of politics and international relations. Political argument often boils down to a struggle over the legitimate meaning of terms and enemies may argue, fight and even go to...
Show More
Concepts have a particular importance for students of politics and international relations. Political argument often boils down to a struggle over the legitimate meaning of terms and enemies may argue, fight and even go to war, each claiming to be 'defending freedom', 'upholding democracy' or 'supporting justice'. The problem is that words such as 'freedom', 'democracy' and 'justice' have different meanings to different people, so that the concepts themselves come to seem problematic.

This book provides an accessible and comprehensive guide to the major concepts encountered in political analysis. Each term is defined clearly and fully, and its significance for political argument and practice is explored. The text has been updated and expanded to take account of the increasing influence of globalization on politics and now features 70 additional concepts. Renowned for its lively, engaging style and user-friendly approach, the second edition is an invaluable companion to the study of politics and international relations.
Show Less
Substantially expanded to include over 60 international relations concepts
New userfriendly alphabetized structure and twocolour text design aid navigation and improve ease of crossreferencing
Written by bestselling politics author, Andrew Heywood, whose books have been read by hundreds of thousands of students worldwide
Ideal reference guide and revision aid for all students of politics and/or international relations, whether studying for a degree or Alevel
Absolutism
Accountability
Anarchism
Anarchy
Animal Rights
Anti-Politics
Arms Race
Authoritarianism
Authority
Autonomy
Balance Of Power
Behaviouralism
Bicameralism
Bill Of Rights
Bureaucracy
Cabinet
Capitalism
Centralisation/Decentralisation
Checks And Balances
Christian
Democracy
Citizenship
Civil Disobedience
Civil Liberty
Civil
Society
Coalition
Collectivise Security
Collectivism
Collectivization
Committee
Communism
Communitarianism
Community
Conflict Of Civilazations
Confucianism
Consensus
Consent
Conservatism
Consociationalism
Constitution
Constitutionalism
Constructivism
Consumerism
Corporatism
Cosmopolitanism
Crimes Against Humanity
Critical Theory
Cross-generational Justice
Democracy
Democratic Peace
Democratization
Deterrence
Development
Devolution
Dialectic
Dictatorship
Diplomacy
Discourse
Ecologism
Election
Elitism
Empiricism
Equality
Executive
Failed State
Fascism
Federalism
Feminism
Free Trade
Freedom
Functionalism
Game Theory
Gender
Geopolitics
Global Civil Society
Global Governance
Global Justice
Globalization
Governance
Government
Great Power
Hard/Soft Power
Hegemony
Historical Materialism
Human Development
Human Nature
Human Rights
Humanitarian Intervention
Idealism
Identity Politics
Ideology
Imperialism
Individualism
Institutionalism
Interdependence
Intergovernmentalism
International Aid
International Law
International Organization
International Relations
International Society
Internationalism
Islamism
Jihad
Judiciary
Just War
Justice
Laissez-Faire
Law
Leadership
Left/Right
Legitimacy
Liberal Democracy
Liberalism
Libertarianism
Local Government
Mandate
Market
Marxism
Mass Media
Meritocracy
Militarism
Minority Rights
Monarchy
Multiculturalism
Multilateralism
Multi-level Governance
Nation
Nationalism
Nation-State
Nazism
Neoliberalism
Neutrality
Non-Governmental Organization
Obligation
Opposition
Order
Pacifism
Paradigm
Parliament
Parliamentary Government
Patriarchy
Patriotism
Peace-Building
Pluralism
Polarity
Policy
Political Culture
Political Economy
Political Party
Political Philosophy
Political Science
Political Theory
Politics
Populism
Positivism
Postcolonialism
Postmodernism
Power
Pragmatism
President
Presidential Government
Pressure Group
Prime Minister
Property
Proportional Representation
Punishment
Race/Ethnicity
Racialism/Racism
Rational Choice
Rationalism
Realism
Referendum
Reform
Regionalism
Religious Fundamentalism
Representation
Republicanism
Responsibility
Revolution
Rights
Rule Of Law
Security
Security Dilemma
Separation Of Powers
Social Class
Social Democracy
Social Justice
Social Movement
Socialism
Sovereignty
State
Subsidiarity
Superpower
Supranationalism
Sustainable Development
Systems Theory
Terrorism
Theocracy
Third Way
Toleration
Toryism
Totalitarianism
Tradition
Transnational Corporation
Transnationalism
Utilitarianism
Utopianism
War
Welfare.
ABOUT THE AUTHOR

---