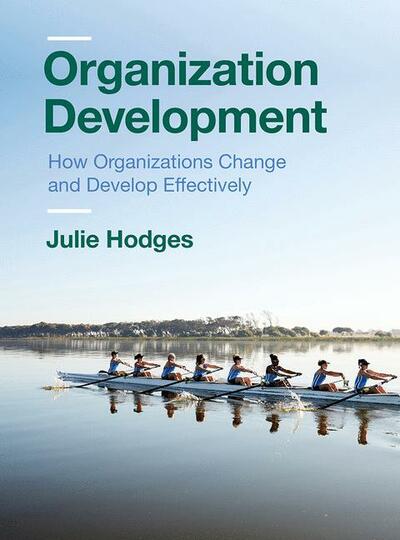 Organization Development
How Organizations Change and Develop Effectively
Author(s):
Publisher:
Red Globe Press
Pages: 268
Downloads:
Further Actions:
---
Categories:
AVAILABLE FORMATS
Paperback - 9781352009286
08 February 2020
Ebook - 9781352009293
08 February 2020
This engaging and accessible textbook shows the importance and role of organizational development around the world, within the context of organizational change. Fostering an analytic approach to organizational issues, it...
Show More
This engaging and accessible textbook shows the importance and role of organizational development around the world, within the context of organizational change. Fostering an analytic approach to organizational issues, it charts the evolution of the field and shows how today OD fosters organizational effectiveness and individual wellbeing. Firmly grounded in a global perspective, it provides a contemporary analysis of OD and highlights the key diagnostic and intervention techniques that can be used to build organizational effectiveness. With a range of critical perspectives, skills development exercises, and practitioner insight, this book blends theory and practice to show OD's conceptualization and its application to contemporary issues faced by organizations.
Suitable for upper undergraduate, postgraduate and MBA level, this is the ideal textbook for anyone studying organizational development.
Show Less
Provides comprehensive coverage of OD topics in an accessible and student-centred way
Takes a global approach that examines cross-cultural implications for OD
Explores critical perspectives on OD that challenge students to see issues from different angles
Embeds employability skills into the text to help students develop key transferable skills that can get them ahead in their careers
Ideal for a one-semester modules at all levels

Part 1: Context and Theory
Introduction
1. Organizational Development in Focus - Role, Ethics and Values
2. The Theoretical Perspectives of OD
Part 2: The Organizational Development Engagement Cycle
3. Initial Meeting and Contracting
4. Investigation - Discovering What Needs to Change
5. Analysis and Feedback
6. Interventions - Generating Solutions
7. Designing for Change
8. Implementing OD Interventions
9. Evaluating, Embedding and Exiting OD Interventions
Part 3: Engaging People in Organizational Development
10. The Co-Production of OD Interventions
11. Global OD and Diversity
Part 4: Organizational Development Capabilities
12. Career Paths and Capabilities.
When Julie Hodges writes that organization development "is more important than ever", she's absolutely right. This is the right book at the right time. Convincingly integrating theory and practice, it offers a useful account for researchers and practitioners who want to engage thoroughly with the OD. – Arjan Kozica, ESB Business School, Germany
A very welcome and comprehensive addition to a field that currently has very limited textbook options. This book combines a clear and accessible presentation of the theoretical underpinning of organisational development with its practical implementation, and will be of benefit both to students new to the topic and more experienced OD practitioners. The case studies offer a fantastic glimpse into real life OD. – Emmanuelle Rey-Marmonier, Aberdeen Business School, UK
A one stop shop for those interested in understanding the nature of OD within a rapidly evolving and global organizational context. This book links present trends in organizational change with the tradition of OD, revealing a long but consistent line of evolution. Hodges offers a rich and detailed overview for academics, students and practitioners. – Luca Scolari, Universita degli Studi di Milano Statale, Italy
In a world after the financial crisis and amid rising concern about the end state of capitalism, we need a reminder of what it actually means to work in a healthy organization in which the wellbeing of its members is at the forefront. This book reminds us of what is at the core of OD, outlining how to achieve an organization that stands for something. Hodges offers steps and variety techniques to create lasting changes in an organization. – Marko Forsell, Centria University of Applied Sciences, Finland
As organisations attempt to become global players, organisational development has become increasingly important to sustain competitive advantage. This book is timely as it covers the theoretical and practical aspects of organisational development and change in various sectors. The content is very current, utilizing actual case studies of organisations to highlight management issues and how things work in reality. – Manjit Singh Sandhu, Monash University, Malaysia
Julie Hodges' new book is comprehensive in addressing the broad landscape of OD topics which are usefully focused through the lens of organization change. The text address contemporary OD challenges and approaches, offers a broad global perspective, and takes up the importance of ethical concerns at each step of the OD cycle. The author's deep experience as a scholar-practitioner is clearly evident in the balance of historical and theoretical perspectives of OD with multiple practice insights, templates, and frameworks which are of clear practical use for students going into the OD field. – Loni Davis, University of San Francisco, USA.
Talk to any strategy practitioner or senior executive about driving strategic outcomes in an organization and it soon becomes evident that even the best strategic planning or strategy roadmap is ineffectual without the change that comes from execution of relevant projects and initiatives that makes strategy happen. Organization Development is not only timely as organizations revisit their strategic planning in light of extraordinary factors challenging many business and operating models, it is essential. Beyond offering the foundations of what organization development is in practice and the evolution of theories that try to explain it and its role in the strategy domain, Prof. Hodges offers a comprehensive process for organization development practitioners. Getting organization development right is critical, and Prof. Hodges' book advocates and presents a practical, analytical framework grounded in robust academic research methodologies that can lead ODPs to pinpoint problems and issues and to develop solid, evidence-based conclusions and solutions, while being attuned to the pitfalls that often come from the analytical journey. Organization Development is an important resource that practitioners and business students will return to time and again. – Hans Geffert, MBA graduate, Durham Business School.
Add a review
ABOUT THE AUTHOR

---