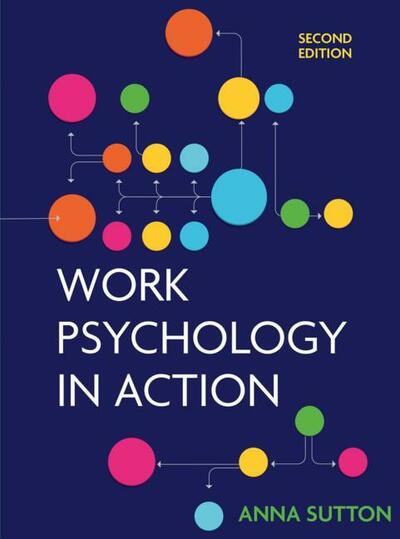 Work Psychology in Action (2nd Edition)
Author(s):
Publisher:
Red Globe Press
Pages: 319
Downloads:
Further Actions:
---
Categories:
AVAILABLE FORMATS
Paperback - 9781352011067
25 November 2020
Ebook - 9781352011074
25 November 2020
The new edition of this popular, accessible and skills-oriented textbook introduces key psychological concepts and demonstrates how they come into play in the real world of work, while building strong awareness of how...
Show More
The new edition of this popular, accessible and skills-oriented textbook introduces key psychological concepts and demonstrates how they come into play in the real world of work, while building strong awareness of how business priorities inform and underpin applied psychology. It combines summaries of important research studies with an exploration of topics from different international perspectives to offer students a deeper appreciation of how psychology develops and is used in the world of business. The book takes a practical, problem-solving approach to understanding the role of psychology in the workplace and focuses on employability skills that will benefit students in their future careers.
Written by a highly experienced lecturer, this book is ideal for undergraduate and postgraduate Business and Psychology students taking modules in work psychology.
Show Less
Focus on employability and transferrable skills: `Psychological Toolkit' in each chapter show how psychological theories/research can be applied to students' own job search and future career
Real-life examples and case studies thoughout help students gain practice in using psychology to understand the realities of work
Topical and up-to-date: Addresses current issues in the psychology of work, including mindfulness at work, the gig economy, insecure working, dispersed workplaces and neuroscience, and each chapter contains a Psychology and Technology feature
Flexibility: the three main themes of Sustainability, Diversity and Employability are woven through the text with different pathways suggested to suit different curricula designs or emphases
A comprehensive companion website featuring PowerPoint Slides, lecture outlines, suggested module timetables, proposed answers for activities and case studies, and more


Fully updated to include the latest research and theory in the field
Reworked chapter on communication and culture
New material on neuroscience
New features such as 'Psychology and Technology'
Updated 'International Perspectives'Â feature, including a wider range of countries and perspectives of Indigenous peoples
New examples and case studies from a wider geographical range, including Asia, Australasia and the Middle East

1. Introducing work psychology
2. Finding and measuring talent
3. Developing and retaining talent
4. Motivation and attitudes
5. Building effective teams
6. Leadership: the good the bad and the ugly
7. Communication and culture
8. Working in a changing world
9. Stress and well-being at work
10. Positive psychology at work
11. Cutting-edge work psychology
12. Realities of research in work psychology
Glossary
Index.
This excellent, thought-provoking book builds upon the strengths of the first edition and the result is comprehensive, well-written and full of interest. Anna Sutton captures the nuances and complexity of psychological theory and clearly demonstrates how it is relevant in today's workplace. Essential reading for students and practitioners alike! – Mark Crowder, Manchester Metropolitan University, UK
Work Psychology in Action uses case studies that reflect contemporary challenges to enable students to connect theory to the issues that are likely to concern them. Readers will benefit from the practical focus, which shows how core areas of practice such as recruitment, selection processes and organisational development are applied in the real world. These highlight the challenges that practitioners encounter when working with clients, and demonstrate the value of rigorous methods. – Andrew Clements, Coventry University, UK
The second edition of Anna Sutton's 'Work Psychology in Action' does not disappoint. In addition to detailed coverage of the basic principles of work psychology, it discusses more topical issues such as climate change, gamification and the gig economy, while case studies help to bring the topics to life. This book will be a valuable resource for psychology and business students alike. – Sheena Johnson, University of Manchester, UK
This is my 'go-to' text for students wanting to learn more about work psychology. It covers all the core areas but does so succinctly drawing on recent and engaging research. The case studies are excellent at bringing theory to life clearly showcasing how work psychology is used in practice. – Gemma Pike, University of the West of England, UK.
Add a review
ABOUT THE AUTHOR

---